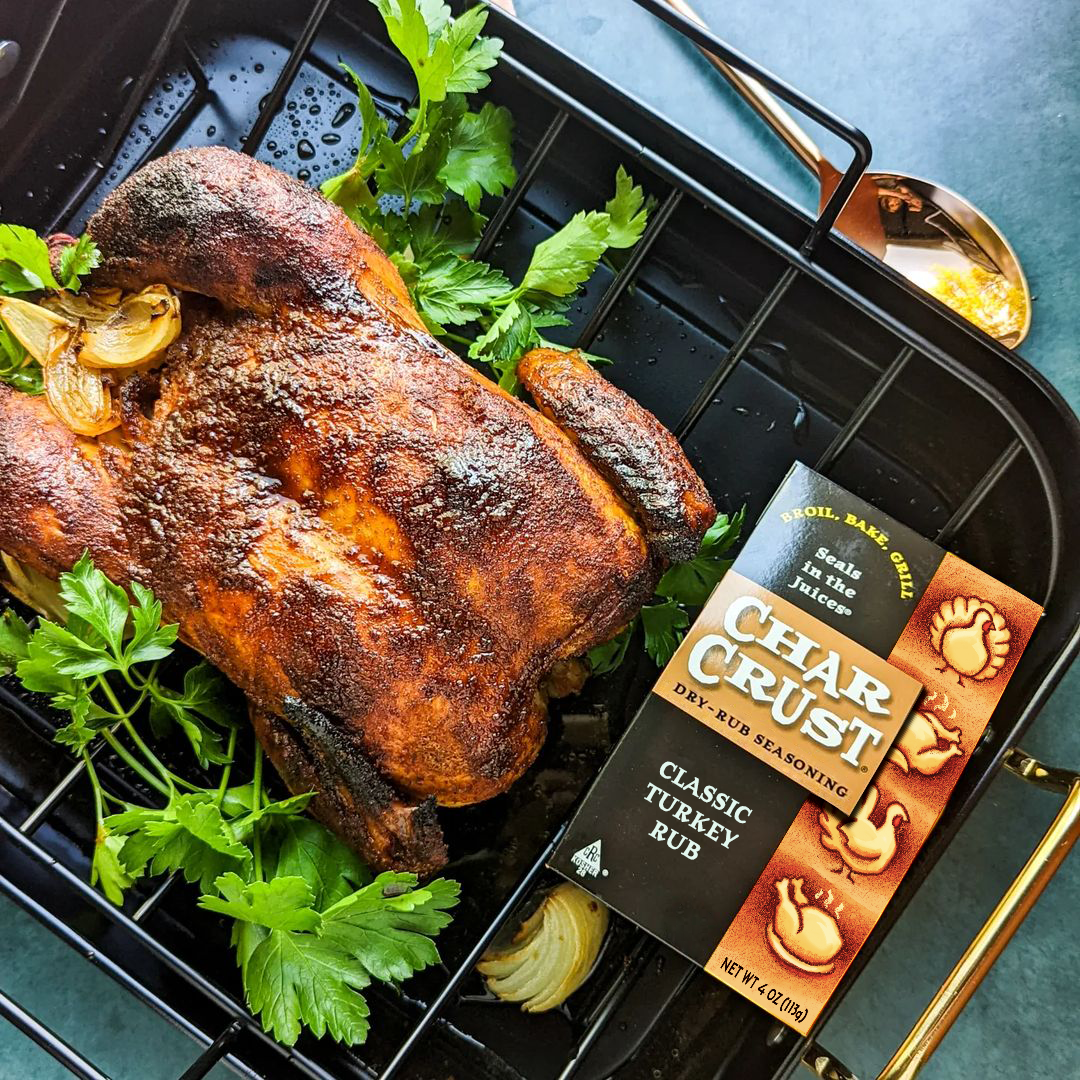 NEW Classic turkey rub
Bring the aroma and taste of the holidays to your home. Your turkey will come out beautifully browned with crispy skin and juicy, tender meat. No brining needed!
Thanksgiving Turkey Recipe
This Turkey recipe is featured on our package. You can follow this recipe, find other recipes on our website, or follow your own recipe.
Ingredients:
Char Crust® Classic Turkey Rub
Turkey
Onion
Lemon
Recipe:
Move oven racks to lowest position. Preheat oven to 450°F
Remove giblets from inside turkey and pat dry. Place in roasting pan.
Starting on underside of turkey, generously sprinkle Classic Turkey Rub all over turkey and gently rub to cover entire surface (coat evenly for best results). Finish with breast side up.
Place a cut lemon and onion inside the cavity.
Place in oven. Roast 20-30 minutes until breast has browned (check turkey every 10 minutes because each oven is different). Remove when breast has browned and cover turkey lightly with tinfoil, making a tent.
Turn oven down to 350°F and continue to roast until thermometer placed between thigh and breast reaches 165°F or juices run clear. Baste with pan juices if desired.
Remove from oven and let rest for 20 minutes. Slice and serve.
See more recipes and videos below
Classic Roasted Thanksgiving Turkey
Char Crust's Classic Turkey Rub is a game changer, which eliminates the need for brining and leaves your turkey crispy on the outside and juicy on the inside!
Read more