Classic Roasted Thanksgiving Turkey
Ingredients:
12-18 lb whole turkey*
1 package of Char Crust® Classic Turkey Rub
1 whole lemon, sliced in half
1 whole onion, sliced in half - optional
Fresh herbs - sage, rosemary and thyme work great
Preheat your oven to 325 degrees. Remove all giblets & pat dry your turkey.
Heavily sprinkle Char Crust all over turkey, including the underside of the turkey. Gently rub to evenly cover entire turkey.
Place onion, lemon and herbs in cavity.
Place turkey on roasting rack in a roasting pan. Put 1-2 cups of liquid in your roasting pan (water or broth).
Cover legs and wing tips with aluminum foil. Lightly cover whole bird with aluminum foil before putting in the oven.
Bake in the oven until the turkey reaches 140 degrees in the thigh, about 3 hours. Use a meat thermometer. 
Remove top aluminum foil. Increase oven temperature to 375 degrees to brown the turkey. Cook until turkey reaches 165 degrees in the thigh. 
Remove from the oven and let rest for 30 minutes. Slice and serve.
*Cook turkey for 15-20 minutes per pound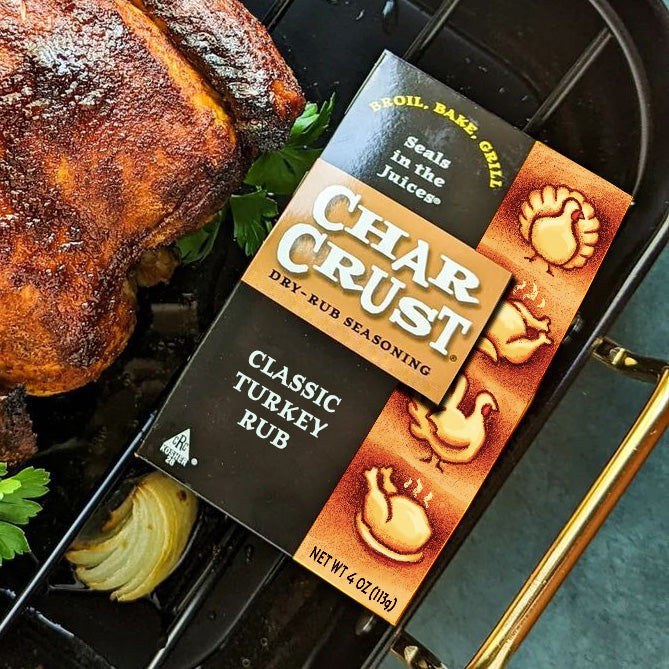 FEATURED PRODUCT
Classic Turkey Rub
Bring the aroma and taste of the holidays to your home. Your turkey will come out beautifully browned with crispy skin and juicy, tender meat. No brining needed!
SHOP NOW